Limited Time
Discount Basic Membership
For a limited time you can get FTC Guardian Basic Membership Discount. Create your required Federal Trade Commission website documents, and get other FREE resources.
Just fill in the rest of your details below.
You'll be joining thousands of other small business owners from all over
country who trust our advice when it comes to Online Digital Compliance.
Protect your business and personal assets today, and make sure you're FTC Compliant.
FREE Year Basic membership also includes:
Chip's Legal Brief: Federal Trade Commission Native Advertising Smackdown.
Our Website Legal Compliance Blueprint
Our "7 Tragic (Legal) Mistakes That Can Get Your Bank Account Frozen By
The FTC" Cheat Sheet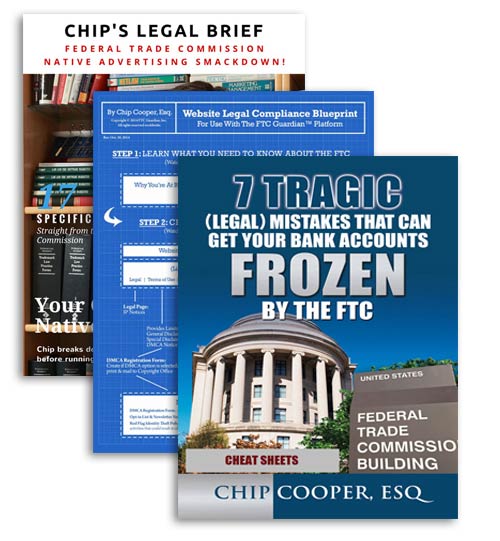 What our members say
I invested in FTC Guardian because I can rest assured that I will have access to the latest information and important legal docs to post on my website … helps me sleep at night!!!

– Beverly Kune

FTC Guardian is off the charts when it comes to help protecting us solo entrepreneurs. I'm investing in what they offer because it's a great time saver and the best peace of mind insurance I've ever seen! Thanks FTC Guardian!

– Ileana Kane

Just came off the webinar – fantastic — just in process of setting up business ventures and this is so so timely. Thank you so much for providing this outstanding service. I will certainly be able to focus on my business without fear of "is this worded right etc" – I will have a tool at my fingertips to check it out.

– Jill Rapley