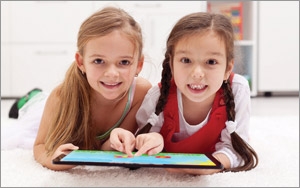 APPS ARE NOT EXEMPT
Most Kids' Apps Fall Short On Privacy Disclosures
Although this article about Apps is not about a company being 'busted', it is a clear reminder that Apps are not exempt from the reach of the FTC. If you are in the business of Apps, or your product has an App, you want to make sure that you are covered and compliant – especially when it comes to childrens' Apps and privacy disclosures.
Developers of childrens' apps are improving their privacy disclosures, but most apps for kids still fall short, according to the Federal Trade Commission.
Just 45% of kids' apps now offer parents links to privacy policies before the apps are downloaded, according to a new report by The FTC's Office of Technology Research and Investigation.
That figure marks an improvement from 2012, when only 22% of apps offered links to privacy policies.
The FTC also reported that around 13% of the apps examined offered "short form" disclosures about the sharing of personal information with third parties, in-app purchases, persistent identifiers, and other privacy-related factors.
"Whatever the reasons for the increase in direct links to kids' app privacy policies, it's a step in the right direction," FTC employees Kristin Cohen and Christina Yeung write in a blog post. "That said, a significant portion of kids' apps still leave parents in the dark."
While Cohen and Yeung say they aren't sure what accounts for the improvement, they speculate that the two main factors that may have contributed are that Google, Apple, Facebook and Amazon require developers to post links to privacy policies if their apps collect personal data. And secondly, that the FTC's new Children's Online Privacy Protection Act regulations might have influenced developers. Those rules restrict companies' ability to collect geolocation data from children under 13, or track them for ad purposes, without their parents' permission.
via Most Kids' Apps Still Fall Short On Privacy Disclosures, FTC Says
Here's How To Make Sure You,




Your Business & Website Is FTC Compliant
By now it should be clear how important it is for you to be FTC compliant. But how can you do that without spending $7,500-$8,000 or more on Internet Attorneys?
Smart business owners around the world are doing it with the help of FTC Guardian.
FTC Guardian is a service that is 100% focused on helping to keep you get and stay FTC compliant and fully protected. And right now, we are offering a free training to give you the knowledge, information, and guidance that you need to stay out of trouble with the Federal Trade Commission.
The training is titled: 3 Tragic (Legal) Privacy Policy List Building Mistakes That Can Get You In Hot Water With The FTC Today – Resulting In Your Business Being Shut Down… And How To Solve It!
Here are some of the things you'll discover on the training:
Real-Life Examples of People Who Didn't Think They Were At Risk, But Who Got Nailed By The FTC, And Why It Could Happen To You, Too
Why 2014 Was a Significant Year For Online Businesses, And Why You Should Be Worried!
The 3 Enormous Powers The FTC Has That Can Change Your Life – And Your Family's Life – Forever!
How to Avoid FTC Claims When Collecting Leads With Optin Forms
3 Privacy Policy Mistakes Every Digital Marketer Is Making, And Why You're In The FTC Crosshairs.
Remember: legal protection is a massively important part of your business, and it's one you cannot afford to ignore any longer.
Go here to register for our next FREE training and make your business is FTC compliant today!
Disclaimer:  This article is provided for informational purposes only. It's not legal advice, and no attorney-client relationship is created. Neither the author nor FTC Guardian, Inc. is endorsed by the Federal Trade Commission.