Game-Changing Book Reveals: New, Out-of-the-Box Client-Getting Strategy You've Never Thought Of…
From the Desk of Chip Cooper, Esq.
Amelia Island, FL

Dear Service Provider Marketer,

If you'd like to get better, higher-paying customers, this is the most important letter you'll read today.
There's a new paradigm for getting new customers. The strategy is so new and out-of-the-box, you've never thought of it.
Here's What You'll Get
This is the break-through, game-changing approach to getting new customers you've been looking for.
You've always known the bedrock marketing principle: above all else, develop "know, like & trust" with customers and prospects.
You may not know it yet, but your old tried and true methods of developing "know, like and trust" have changed.
You'll learn why your customers and prospects now hold online businesses to new and higher standards for developing trust than ever before. [Hint: remember the Cambridge Analytica scandal that rocked Facebook in 20017 and all the publicity surrounding the international ramifications of the EU GDPR regulations in 2018?]
You'll learn why 39% of your customers and prospects now look for a privacy seal before deciding whether to trust.
But there's more to it than simply having a privacy shield.
You'll learn the secrets of how to upgrade your brand in a way that will resonate positively to your customers' and prospects' new expectations… a new approach that will change the paradigm in your favor for attracting and retaining the better, higher-paying customers you need to elevate your business to new heights.

You'll finally be able to build a real "trust" relationship with prospects and customers that'll differentiate you from your competitors.
Imagine your financial success and career satisfaction reaching levels you've only dreamed about.

Your customers will treat you with greater respect. You'll have the confidence that they know you, like you, and trust you. They'll really appreciate how you operate your business. And they'll let you know it.

I'll explain exactly what to do, how to do it, and why.

Plus, it's a quick, easy read… just 89 pages, with checklists, diagrams, and images that communicate clearly. You can finish it in half a day.

Here's just a fraction of what's inside and what it might mean for your service business, and career.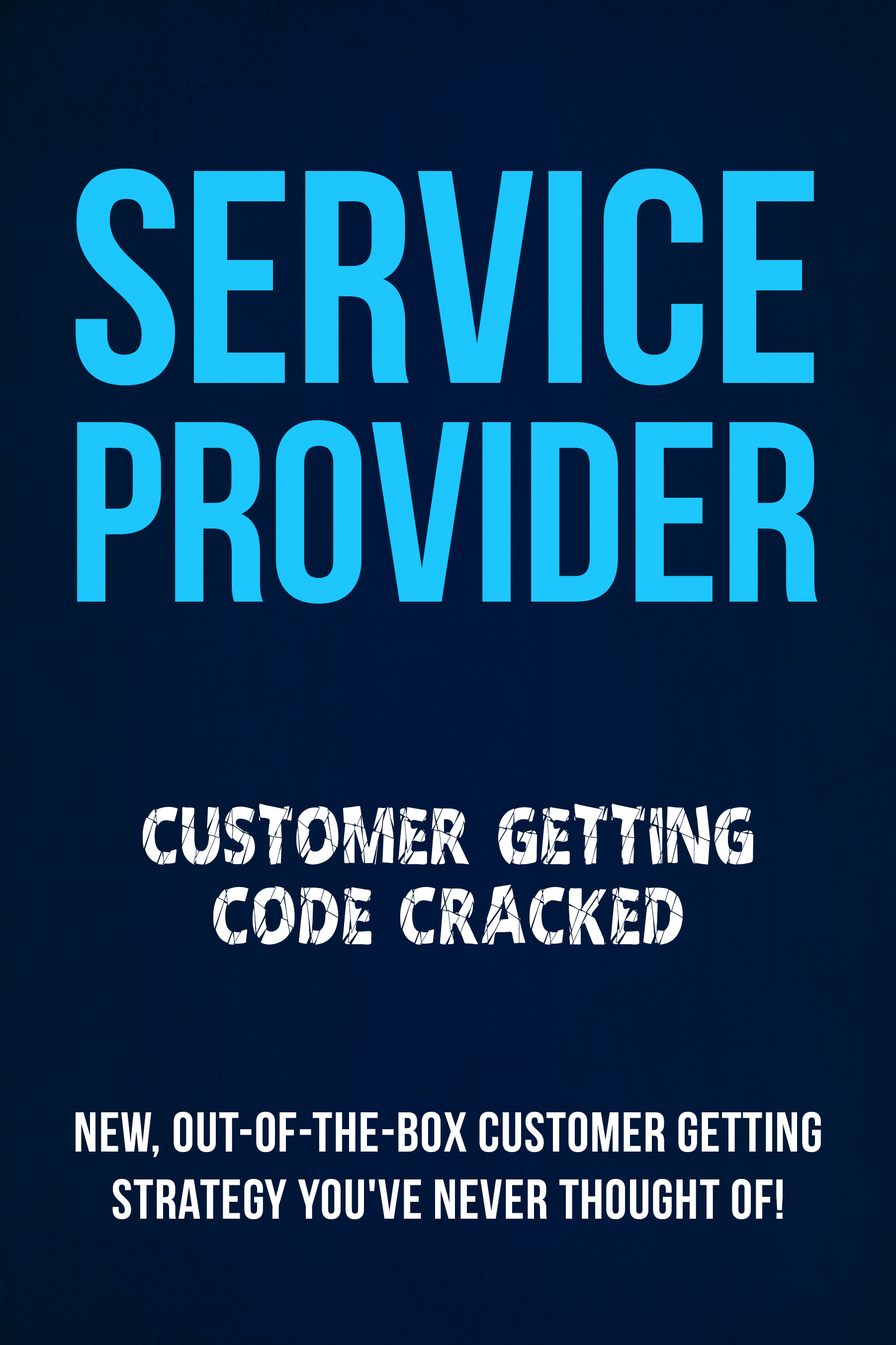 Best News Ever: Your competitors won't know it, but they'll be practically driving new business to you as you read this.

Why?

Because they're still making the same old mistakes. Focusing only on extracting pain points and forcing prospects through a funnel will only get you so far.

You'll be competing with them on a whole new level. They won't even understand how to compete with you effectively.
I'll explain exactly what it means – from the point of view of your customers and prospects – to know, like, and trust you… beginning on page 2.
It's essential that you have a clear understanding of the critical difference between marketing and branding. Checklists on page 6.
​I'll share answers to one of the great questions beginning on page 8: Does your website and business pass the new eyeball test? You'll learn how to answer, "Yes". This is so important because you'll be addressing the new concerns and worries your customers and prospects have.
3 true case studies beginning on page 30 explain exactly how to avoid the critical pitfalls that sabotaged other service businesses.
How about a blueprint for success? I'll walk you through a present-day, incredibly successful case study and reveal exactly how this is done, why it works, and the exact steps you can take to alter the course of your business. (Page 75).
It's Not the Typical "Marketing" Hype

Forget the typical "marketing" hype you've heard so many times before (and you're sick of). This new approach cracks the code for attracting and retaining the better, higher-paying customers you want.

No more worries about chasing the next "shiny object". This frustrating practice will be in your rear-view mirror… for good.
Your Next Steps
Look, I'll give you the book totally FREE, just do me a favor and cover the printing and shipping, that's all I ask.

Why only $7.97?

It's simple, that's my cost to print and deliver it to you in physical form. I believe it's so important for you to have this information that I want to make it available to you at my cost.

But I want you to have access to it right now. When you place your order today, you'll get a link in your email receipt so you can download it in PDF format and get it immediately.

So, the total "cost" of the book is just $7.97, that's for the shipping and handling, and I'll also make sure you get a link to the PDF download, so you don't have to wait to start digging in.

Expect maybe 2 weeks for delivery of the physical book, at the most.
It's Important to Act Now
And let me tell you why…

People are coming out of the woodwork these days… Everyone's claiming to be a "digital marketing master" and offering the next "shiny object", and quiet honestly, most of them are crap.

Trust me when I tell you… You don't want to chase prospects with the next "shiny object". You want to be able to swing for the fence and get the BEST highest paying customers. Right?

So you definitely want to avoid being a late adopter. When you act now, you'll get the jump on your competition.

Long before your competitors even get a clue about why you're so successful, and landing better customers, you'll be well on your way to building your highly regarded information product business and career.
Guarantee
We know you'll profit from the book. However, if you don't, you can just keep it. Email the address on your receipt, and we'll refund your $7.97.
No questions asked.
This Really is an Amazing Offer
​Claim Your Copy Now
Thanks for reading this letter.

Chip Cooper, Esq.
P.S. This is the summary:
I'm giving you an 89-page book that explains a new, game-changing way for you to attract and retain better, higher-paying customers. I explain exactly what to do, how to do it, and why. Your competitors won't know how to compete with you.

No more worries about chasing the next "shiny object". This frustrating practice will be in your rear-view mirror… for good.

All you pay is $7.97, which is just for the shipping and handling, and you'll also get it instantly by PDF download so you can read it while we're shipping the physical copy to you.
Here's How To Make Sure You, Your Business and Website Are FTC & GDPR Compliant
By now it should be clear how important it is for you to be FTC compliant. But how can you do that without spending $7,500-$8,000 or more on Internet Attorneys?
Smart business owners around the world are doing it with the help of FTC Guardian.
FTC Guardian is a service that is 100% focused on helping to keep you get and stay FTC & GDPR compliant and fully protected. And right now, we are offering free training to give you the knowledge, information, and guidance that you need to stay out of trouble with the Federal Trade Commission and the new GDPR guidelines.
Free Compliance Workshop: Join Chip Cooper, Esq., the #1 FTC Compliance & GDPR trainer in the World, for a one-of-kind, completely free online compliance workshop.
Workshops fill up quickly, so register now.
Here are some of the things you'll discover in the training:
Real-Life Examples of People Who Didn't Think They Were At Risk, But Who Got Nailed By The FTC, And Why It Could Happen To You, Too
The 3 Enormous Powers The FTC Has That Can Change Your Life – And Your Family's Life – Forever!
How to Avoid FTC Claims When Collecting Leads With Optin Forms
3 Privacy Policy Mistakes Every Digital Marketer Is Making, And Why You're In The FTC Crosshairs.
And Much More…
Remember: legal protection is a massively important part of your business, and it's one you cannot afford to ignore any longer.
Go here to register for our next FREE training and make your business is FTC compliant today!
Disclaimer: This article is provided for informational purposes only. It's not legal advice, and no attorney-client relationship is created. Neither the author nor FTC Guardian, Inc. is endorsed by the Federal Trade Commission.