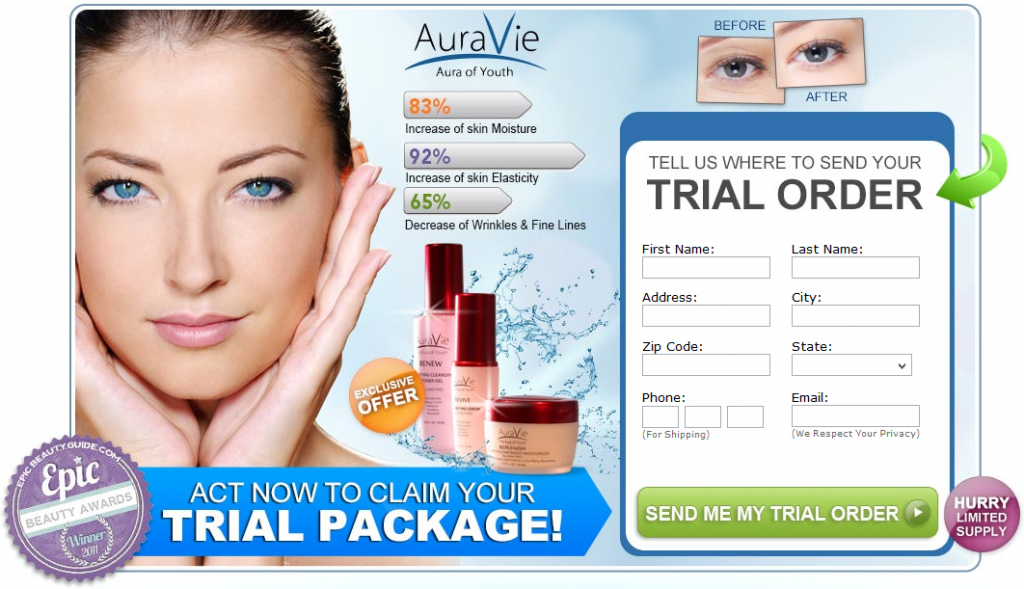 FTC Temporarily Shuts Down Online Skincare Marketers Who Deceive Consumers with Bogus "Risk Free Trial" Offers
Sometimes it's hard to ignore the lure of a "risk-free trial" when it comes with a product that promises to leave your skin youthful, radiant and as soft as a baby's bottom. But as the Federal Trade Commission once again reminds us, those deals often come with strings attached and hollow promises.
The FTC announced today that at its request a federal district court temporarily shut down a group of marketers using allegedly deceptive online "risk-free trials" for skincare products.
The 15 California-based marketers allegedly use deceptive offers to trick consumers into providing their credit or debit card information to charge them full price for the product and enroll them in recurring programs for additional fees.
According to the FTC complaint [PDF], the marketers, which sell Auravie, Dellure, LéOR Skincare, and Miracle Face Kit brand products, have used such deceptive techniques on a variety of websites since 2010.
Much like the equally deceptive weight loss supplement marketing schemes, these marketers used pop-up advertisements, banner ads, and advertising space on third-party websites – including Amazon.com, Huffingtonpost.com, and Lowes.com – to tout "risk-free trial" offers to direct consumers to their websites.
The sites – aurviefreetrial.com, auraviewtrialkit.com, and mymiraclekit.com, just to name a few – then instruct visitors to provide their credit or debit card information to pay shipping fees of $4.95 to receive the trial offer.
"Defendants also use deceptive pop-up advertisements that discourage consumers from leaving Defendants' websites without accepting a trial offer," the complaint states. "When consumers attempt to leave the websites, a text box appears that offers to ship the trial offer at an even lower shipping price."
Read the full story at: Consumerist.com
At FTC's Request, Court Temporarily Stops Online Skincare Marketers Who Deceive Consumers with Bogus "Risk Free Trial" Offers and Recurring Fees  [Federal Trade Commission]
Here's How To Make Sure You,




Your Business & Website Is FTC Compliant
By now it should be clear how important it is for you to be FTC compliant. But how can you do that without spending $7,500-$8,000 or more on Internet Attorneys?
Smart business owners around the world are doing it with the help of FTC Guardian.
FTC Guardian is a service that is 100% focused on helping to keep you get and stay FTC compliant and fully protected. And right now, we are offering a free training to give you the knowledge, information, and guidance that you need to stay out of trouble with the Federal Trade Commission.
The training is titled: 3 Tragic (Legal) Privacy Policy List Building Mistakes That Can Get You In Hot Water With The FTC Today – Resulting In Your Business Being Shut Down… And How To Solve It!
Here are some of the things you'll discover on the training:
Real-Life Examples of People Who Didn't Think They Were At Risk, But Who Got Nailed By The FTC, And Why It Could Happen To You, Too
Why 2014 Was a Significant Year For Online Businesses, And Why You Should Be Worried!
The 3 Enormous Powers The FTC Has That Can Change Your Life – And Your Family's Life – Forever!
How to Avoid FTC Claims When Collecting Leads With Optin Forms
3 Privacy Policy Mistakes Every Digital Marketer Is Making, And Why You're In The FTC Crosshairs.
Remember: legal protection is a massively important part of your business, and it's one you cannot afford to ignore any longer.
Go here to register for our next FREE training and make your business is FTC compliant today!
Disclaimer:  This article is provided for informational purposes only. It's not legal advice, and no attorney-client relationship is created. Neither the author nor FTC Guardian, Inc. is endorsed by the Federal Trade Commission.